Wall mirrors from the manufacturer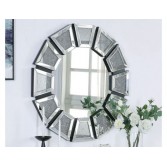 WALL MIRROR: TIPS FOR CHOOSING
Designers of interiors argue that for each room you need to pick up "your" wall mirror. For example, a neat oval is suitable for a small hallway, a large one in a frame for the living room, a mirror wall - for the dining room. Reflective decor items reveal the space, emphasize the advantages and disadvantages. Therefore so it is important to consider not only the size, shape, but also its correct location.
There are two types of wall mirror: decorative and functional.
Decorative, as a rule, are equipped with heavy frames, additional design elements. Often they grow old, matte and hang where it is difficult to look at them. Their task is to scatter, amplify light, place accents, increase glare of candles and chandeliers, and show off against the background of other interior items.
The task of functional ones is to create a true reflection without distortion, vagueness. They are decorated minimally, but can be produced with LED-backlight, equipped with ergonomic shelves and stands.
CUSTOM-MADE WALL MIRROR: WHOLESALE AND RETAIL
In order to buy a custom-made wall mirror, it worth getting acquainted with the design innovations of the current season. Framing should be selected in the style of a general space. Overload with decor elements is no longer in fashion. But wall models of non-standard forms and original design will replace the art objects or complex sculptural work.
You can order a wall mirror wholesale or retail in our online store. You can also scroll through other sections of the catalog and select products for rooms, offices, gyms, beauty salons. Did not find the right position in the catalog? Please, specify all your wishes in the order. We, as a manufacturer, will be happy to make a special mirror just for you