Bespoke bathroom mirrors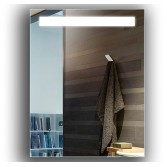 CHOOSING THE PERFECT BATHROOM MIRROR
Buying a bespoke or ready-made bathroom mirror is not easy for a beginner. The variety of models is amazing, the conditions of use require increased moisture resistance, resistance to temperature extremes, and structural reliability. Today we, as a manufacturing company – 'Mirror Trade', offer a wide range of products from glass. To make the products, manufactured at our factory pleasing to the eye, and bringing comfort in everyday life, please listen to the advice of our experts. Rest assured, they will answer all your questions and help you order a bathroom mirror, taking into account all the necessary wishes.
>Evaluate initial data of the room. On a small area, a small bathroom mirror is often placed above the sink, equipped with comfortable shelves. On the big area the product looks organic in full growth.
Think over the functionality. For cosmetic procedures and make-up, combing and shaving it is worth buying a bathroom mirror with lighting. At the same time, you need to pick up spotlights, lamps, sconces, suitable in style, take care of installation of a socket for LED lighting.
Decide with the general mood, style, colour scheme of the interior. A modest frameless bathroom mirror will support a modern, minimalist, Scandinavian style, hi-tech, eco-style. The luxurious wide frame will fit into classic, antique design. Bright appliqué, frosted framing ornament, decorative bevel will adorn the most modest and unpretentious bathroom.
When making a choice, the price depends on several parameters:
size;
form;
optional backlight;
decor.
The cheapest bathroom mirror is a frameless mirror. It is installed on a moisture resistant MDF base. But keep in mind that a mirror with lighting for the bathroom will cost more if accompanied by a shelf, decorative accessories, multi-colored inserts, frame, pattern, bevel edge, sandblast matting.
BUY A BATHROOM MIRROR FROM THE MANUFACTURER IN BULK
Our factory develops and supplies products from the catalog from the website. We are happy to make any bespoke bathroom mirror with or without lighting. There are various ready models in our assortment. It is possible to order your individual version, providing all the necessary information to consultants. You can buy bathroom mirror wholesale or retail at manufacturer's prices from us. Company managers will be happy to give advice, suggest decor and lighting options.